From routine cleanings and fillings to bruxism devices, Evolution Dentistry is equipped to handle all your dental needs. To help you understand your options, we've included descriptions of some of our leading services on this page.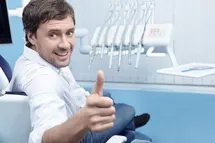 Initial Oral Examination
Your initial oral examination includes a visual examination, charting, periodontal probing, diagnosis, and treatment recommendations. We will also take x-rays, which includes the panoramic x-ray for proper diagnosis of the anterior (front) and posterior (back) teeth as well as the bite-wing x-ray series for proper diagnosis of proximal decay of posterior teeth.
Cosmetic Contouring:

A healthy, beautiful smile is about more than aesthetics — it's about finally finding the comfort and confidence that allows you to smile with ease and show your pearly whites without fear. We know what a powerful impact a great smile like this makes. That's why we're here to help you improve your teeth with dental cosmetic contouring. The fact is, teeth can often become crooked, chipped or cracked over time. In some cases, they may even overlap because of a traumatic injury, bruxism (grinding) or basic genetics. In every case, the misalignment, damage and cracking detract from what could be a healthy, beautiful smile. If this sounds familiar to you, you could benefit from the help of a cosmetic dentist. The essential point is that cosmetic contouring can be the tool to dramatically change and reshape your smile. In the cosmetic contouring process, a dentist removes a very small amount of tooth structure to adjust the appearance of your teeth. In many cases, dental cosmetic contouring can greatly improve the alignment and look of your teeth. Even if you are dealing with an uneven or crooked tooth, it may be reshaped through the removal of a small amount of enamel to correct the alignment!

Crowns and Bridges

Bridges are natural-looking dental appliances that can replace a section of missing teeth. Because they are custom-made, bridges are barely noticeable and can restore the natural contour of teeth as well as the proper bite relationship between upper and lower teeth. Bridges are sometimes referred to as fixed partial dentures because they are semi-permanent and are bonded to existing teeth or implants. There are several types of fixed dental bridges (cannot be removed), including conventional fixed bridges, cantilever bridges and resin-bonded bridges. Unlike a removable bridge, which you can take out and clean, your dentist can only remove a fixed bridge. Crowns are synthetic caps, usually made of a material like porcelain, placed on the top of a tooth. Crowns are typically used to restore a tooth's function and appearance following a restorative procedure such as a root canal. When decay in a tooth has become so advanced that large portions of the tooth must be removed, crowns are often used to restore the tooth. Crowns are also used to attach bridges, cover implants, prevent a cracked tooth from becoming worse, or an existing filling is in jeopardy of becoming loose or dislocated. Crowns also serve an aesthetic use and are applied when a discolored or stained tooth needs to be restored to its natural appearance.

Specialty Dentures
Cosmetic Fillings
A cosmetic filling is the name of a dental procedure in which a material such as silver amalgam or a composite (white) filling is used to treat a decayed tooth. This material is inserted into the tooth where it then prevents the further spread of decay or repairs any damage. A cosmetic filling can repair a tooth that has cavities, cracks, infection, decay, or fractures. Our dentist uses composite or cosmetic (tooth-colored) fillings to provide optimal restorative and cosmetic results for your tooth. The dentist will remove the tooth decay and then clean and fill the healthy tooth with a tooth-colored filling. This treatment stops the decay from spreading into the root where it will cause a serious infection, e.g. an abscess. This also removes the need for a tooth extraction.
Implants

Implants are synthetic structures that are placed around the tooth normally occupied by the root. Not everyone is a candidate for a dental implant, however. For a successful implant to take hold, a candidate must have proper bone density and have a strong immune system. In all cases, dental implants require strict oral hygiene. Implants are so well designed that they mimic the look and feel of natural teeth. Implants are usually made of a synthetic yet biocompatible material like metal or ceramic. Surgery is necessary to prepare the area for an implant and place the implant in the mouth. Following the procedure, a period is required for the implant to take hold and for bone tissue to build up and anchor the device. In some cases, metal posts are inserted into the implant during a follow-up procedure to connect the tooth. Because implants require surgery, patients are administered anesthesia and, if necessary, antibiotics to stave off infection following the procedure. Like any restoration, implants require diligent oral hygiene and proper care to ensure they last a long time.

Invisalign

More than 4 million patients have straightened their teeth with Invisalign. This huge number proves that the process is successful and can treat many types of orthodontic problems. However, understanding the Invisalign process is a crucial part in understanding if Invisalign is right for you. Similarly to traditional braces, Invisalign relies on pressure to move the teeth from one position to another. Invisalign's aligner trays take the place of traditional braces' metal brackets and wires to place that pressure on the teeth. Small, tooth-colored bumps affixed to the teeth called attachments may help your orthodontist place more pointed pressure on some teeth to move them more or less than others. Unlike traditional braces, Invisalign allows you to straighten your teeth subtly. Invisalign's clear plastic, custom-made aligner trays fit exactly onto your teeth, blending in with your natural look. The trays are also removable, eliminating the need to avoid certain foods or add timely steps to your oral care routine.

Veneers

Veneers are thin pieces of porcelain or plastic cemented over the front of your teeth to change their color or shape. Veneers are used on teeth with uneven surfaces or are chipped, discolored, oddly shaped, unevenly spaced, or crooked. Little or no anesthesia is needed. Veneers have a longer life expectancy and color stability than bonding, and highly resist permanent staining from coffee, tea, or even cigarette smoking. Porcelain veneers can mask undesirable defects, such as teeth stained by tetracycline, by an injury, or because of a root-canal procedure, and are ideal for masking discolored fillings in front teeth. Patients with gaps between their front teeth or teeth that are chipped or worn may consider porcelain veneers. Typically, veneers entail at least three appointments: diagnosis and treatment planning, preparation, and bonding. For certain patients, no preparation of the teeth may be necessary.

Whitening
Whitening procedures have effectively restored the smile of people with stained, dull, or discolored teeth. Increasingly, people today are choosing tooth-whitening procedures to reverse the effects of aging and abuse from food and tobacco stains. Some commercially available "whitening toothpastes" can be somewhat effective at removing stains and making teeth a few shades brighter. However, many of these products have abrasive substances that can wear away your tooth's enamel. Professional whitening performed by our office is the most effective and safest method; done properly, tooth whitening can last upwards of five years. Over-the-counter whitening systems are somewhat effective if they are monitored and directions followed closely.
Sealants

A sealant is a tooth-colored or clear material that is applied to the chewing surfaces of the back molars, where tooth decay occurs most often. Our dentist offers dental sealants that will help seal out the food and germs that cause tooth decay by creating a barrier over the grooves and pits of the back molars. The chewing surfaces of the molar and premolar teeth have grooves — "fissures" — that make them vulnerable to decay. These fissures can be deep, are difficult to clean, and can be narrower than even a single bristle of a toothbrush. Plaque accumulates in these areas, and the acid from bacteria in the plaque attacks the enamel and cavities can develop. Fluoride helps prevent decay and helps protect all the surfaces of the teeth, dental sealants provide extra protection for the grooved and pitted areas by providing a smooth surface covering the fissured area. To learn more about your options for maintaining good oral health, feel free to call our dental practice today.

Root Canal Therapy

Root canals are tiny passageways that branch off from beneath the top of the tooth, coursing their way vertically downward, until they reach the tip of the root. All teeth have between one and four root canals. Many tooth problems involve infections that spread to the pulp, which is the inner chamber of the tooth containing blood vessels, nerves, and other tissues. When the infection becomes worse, it can begin affecting the roots. Root canal therapy is a remarkable treatment with a very high rate of success and involves removing the diseased tissue, halting the spread of infection, and restoring the healthy portion of the tooth. In fact, root canal therapy is designed to save a problem tooth; before the procedure was developed and gained acceptance, the only alternative for treating a diseased tooth was extraction.

Extractions

A Tooth extraction, put simply, is the removal of a tooth from the mouth. Dental extractions are most often performed because a tooth has sustained damage or decay, or cannot be saved by Root Canal treatment, or to prepare for the placement of a Dental Implant. Advanced gum disease may be another contributing factor in a tooth extraction. Natural teeth are ideal for biting, chewing and maintaining mouth and jawbone structure, which is why a dentist's priority is to help restore, save and repair your natural teeth. However, sometimes a tooth extraction is unavoidable.

Scaling and Root Planing

Root planing and scaling is one of the most effective ways to treat gum disease before it becomes severe. Root planing and scaling clean between the gums and the teeth down to the roots. Your dentist may need to use a local anesthetic to numb your gums and the roots of your teeth. Some dentists and dental hygienists will use an ultrasonic tool for the planing and scaling. This tool is not as uncomfortable as a standard scraping tool, but not all cleanings require this type of tool. Your dentist may place antibiotic fibers into the pockets between your teeth and gums. The antibiotic will help speed healing and prevent infection. The dentist will remove the fibers about 1 week after the procedure.

Dentures

Dentures are essentially removable replacements for missing teeth. Two types of dentures are available: complete, or full, dentures and partial dentures. Patients who need to replace an entire row of teeth use full dentures. On the other hand, partial dentures, or partials, are used when only a few of the teeth need to be replaced and some of the natural teeth are still intact. Full and partial dentures are fabricated to resemble natural teeth as closely as possible while also taking into consideration the patient's comfort when wearing them. Each denture, full or partial, is custom-made to fit the unique requirements of each patient. Impressions of the patient's mouth will be taken to facilitate the fabrication of dentures and so they will fit proportionately.

Cosmetic Dentistry

If you have stained, broken or uneven teeth, cosmetic dentistry can help. Cosmetic dentistry is different from orthodontic treatment, which can straighten your teeth with braces or other devices. Now a movie star smile is as close as your mirror. Starting with healthy teeth and gums. Our doctors can perfect your smile through porcelain restorations, veneers, Lumineers, whitening, and other state-of-the-art treatments. Cosmetic dentistry is dentistry aimed at creating a positive change to your teeth and to your smile. Most think of tooth whitening or porcelain veneers, but a cosmetic dentist can provide much more. A skilled, experienced cosmetic dentist can help to improve your appearance, your smile, even your self-esteem, and confidence. Today, cosmetic dentistry has continued to evolve to where cosmetic dentists can address functional and esthetic patient concerns.

Bonding:

Dental bonding is a procedure in which a tooth-colored resin material (a durable plastic material) is applied and hardened with a special light, which ultimately "bonds" the material to the tooth to restore or improve person's smile. Bonding is among the easiest and least expensive cosmetic dental procedure. The composite resin used in bonding can be shaped and polished to match the surrounding teeth. Most often, bonding is used for cosmetic purposes to improve the appearance of a discolored or chipped tooth. It also can be used to close spaces between teeth, to make teeth look longer or to change the shape or color of teeth. Sometimes bonding is used as a cosmetic alternative to fillings, or to protect a portion of the tooth's root that has been exposed because of gum recession.